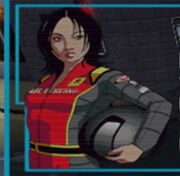 Anika is the mysterious driver and World Champion of Midnight Club: Street Racing. She is of Japanese descent and her father is a car manufacturer in Japan. Nobody has ever seen her face before, but only those who defeat her can see it. She came to London, looking for those who wanted to challenge her title. The player can choose to race her after the player beats the London Championship.
Anika drives the Zender Alpha.
While racing Anika in the World Championship, the player also races against Kareem Windross and Darren Thurrock, who were the former city champions of New York and London, respectively.
Despite being the world champion, Anika seems to be kind, especially to those who defeat her.
Anika's bio name is ?????, which is also five letters long.
The Zender Type-S is most likely a concept car Anika's father is building.
Related Content
Edit