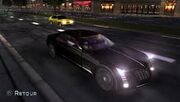 The Cadillac Sixteen is a vehicle available in Midnight Club 3: DUB Edition. It cannot be purchased in either San Diego, Atlanta, or Detroit.
Acquisition
Edit
The Cadillac Sixteen is unlocked when the player completes the career in the game. (Also known as 100%. Completion), (77% in Remix). Or can be purchased for $250,000 if sold.
Performance
Edit
Handling is on muscle car side but a lot worse as the steering lacks response compared to classic muscle cars which have quick response. Acceleration is on the lazy side as it can't even outrun a Mitsubishi Eclipse. Once fully upgraded though, it is competitive against a lot of D-class cars and some C-class cars, but due it's extremely heavy mass, soft suspension and lazy handling and acceleration, it won't stand a chance against B-class and A-class cars.
The car can plough through traffic very easily and doesn't get damage easily due to it's very heavy mass. Making a quick getaway in race starts is very tricky, even with NOS.
Related Content
Edit