The Chevrolet Fleetline is a Class C muscle car available in Midnight Club 3: DUB Edition.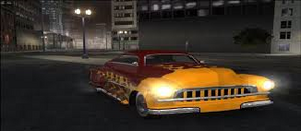 Chevrolet Fleetline

Make

Chevrolet

Model

Feetline

Appearance(s)

Vehicle Type

Muscle

Price

$42,500

Base Class

C

Real World

1949 Chevrolet Deluxe Fleetline 2-door Aerosedan
Background 
The generation two Chevrolet Fleetline was a full-size fastback sedan available in two- or four-door configurations and produced between 1949 and 1952 as a subseries to the standard Chevrolet Special and Deluxe sedans. It featured a one-inch shorter roof and a distinctive sloping rear. Most were powered by a 216- or 235.5-cubic-inch straight-6 engine turning the rear wheels through a three-on-the-tree synchromesh transmission. 
Description
The 1949 Chevrolet Fleetline in Midnight Club 3  is a heavily modified  Chevrolet Deluxe Fleetline 2-door Aerosedan,, customized into a "lead sled" hotrod. It features a non-customizable, drastically altered body, vintage whitewall tires, and side exhausts coming from, presumably, a GM 350 cubic-inch crate engine coupled to a four-speed transmission putting power to the rear wheels. 
Performance 
The Fleetline has good acceleration and a top speed of 200 MPH, but can be a bit tail-happy in turns. As such, it is a very good choice for racers who regularly use Roar, as it racks up units quickly.  It is strongly advised, however, not to use Roar while the vehicle is turning sharply, as the car's front wheels lose traction, making it likely the player will spin out alongside their intended target(s). 
Performance Figures:
              Acceleration       Top Speed      Handling 
Stock- 
Level 1-
Full- 
Acquisition
It is given as a prize after beating the Bad Boyz Tournament in Detroit.
Gallery
(Coming Soon!)
Community content is available under
CC-BY-SA
unless otherwise noted.