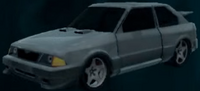 The Cocotte is a starter vehicle in Midnight Club II.
Description
Edit
"Entry level vehicle. Well-balanced starter car in L.A."
The Cocotte is the default vehicle given to the player at the beginning of the game.
Resemblance
Edit
The Cocotte bears a resemblance to the Ford Escort (US version) .
Top Speed
Edit
| | | |
| --- | --- | --- |
| | 137 MPH | Top Speed (Without Nitrous) |
| | 180 MPH | Top Speed (With Nitrous) |
The word 'cocotte' is a french word for chicken or rooster. It also means "a fashionable prostitute".
Both Cocotte and Bryanston V have the same rims. They possibly are the same car, but from different generations.