The
Kawasaki Ninja
is a sports bike available in
Midnight Club 3: DUB Edition
and
Midnight Club: Los Angeles
.
Midnight Club 3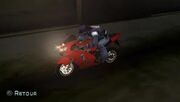 The Kawasaki Ninja can be unlocked in this game after completing a series of sports bike races. The Ninja is the fastest normal sports bike in the game (excluding the Kawasaki Police 1000, which is classed as a police vehicle). It can rival with the Police 1000 in terms of top speed and acceleration. Its handling is also great.
Midnight Club Los Angeles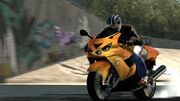 The 2007 Kawasaki Ninja ZX-14 is an A-class Group 4 Sports Bike. It has the overall best specs of any vehicle in the game, with nearly maxed out acceleration , top speed of 260 upgraded of 282, and handling. NOTE:In Midnight Club 2, the Nousagi is based off from Kawasaki Ninja.
Acquisition
The bike can be purchased from the garage in Midnight Club: Los Angeles for $17,000 after receiving the Champion rank. In Midnight Club 3: DUB Edition, the bike is unlocked after winning a series of sports bike races.
Gallery
Related Content
Community content is available under
CC-BY-SA
unless otherwise noted.