The Lamborghini Murcielago is a car that is available in Midnight Club 3: DUB Edition and Midnight Club: Los Angeles.
Description
It is a roadster made by Lamborghini that is one of the fastest vehicles in the game with a top speed of 212 m.p.h. and a 0 - 60 time of 3.8 seconds. It is slightly faster than the other available Lamborghini, the Gallardo and as fast as the Dub Version of this car. As a convertible, the roof can be set in raised or lowered position.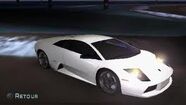 Midnight Club 3
You can win one in Midnight Club 3 by defeating all the U.S Championship Racers. It comes in Green as the stock color.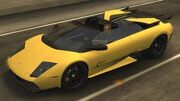 Midnight Club Los Angeles
A DUB Edition of this vehicle is the prize for winning the Downtown DUB Tournament on hard difficulty. Otherwise it can be purchased unlike MC3. The Murcielago is often the most favoured car due to it reaching high speeds and it having decent cornering. The Murcielago even rivals the Saleen when it comes to top speed. However, the acceleration of the car from stand still can be a bit of hand full, especially when injecting NOS at the start of a race/time trial. There is a delay in shifting the first few gears when using NOS. Applying NOS when in 3rd gear gives a consistent and uninterrupted acceleration.
Notes
The car lacks the later lamps of the Murcielagos but does have other wheels.
A blue Murcielago modded as a DUB version is usable as a timed race on the PSP.
Gallery
Related Content
Community content is available under
CC-BY-SA
unless otherwise noted.