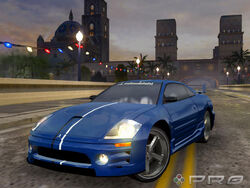 The Mitsubishi Eclipse is a vehicle in Midnight Club 3: DUB Edition. It is based off the third generation Mitsubishi Eclipse. It is one of the vehicles that can be unlocked and purchased at the start of the game for $21,200.
Performance
The Mitsubishi Eclipse is a good choice as a starter vehicle. It has a good acceleration and top speed and average handling.
Trivia
The car can be found as a Traffic Car in Midnight Club: Los Angeles with slightly modified parts.
Vanessa drives a pink modified Mitsubishi Eclipse during her first encounter. She then drives an upgraded turquoise Eclipse during her second encounter.
Gallery
Related Content
Community content is available under
CC-BY-SA
unless otherwise noted.