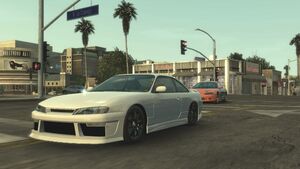 The Nissan 240SX (Also known as the Nissan Silvia S14 outside the United States) is a vehicle available in Midnight Club: Los Angeles.
Description
The 1998 Nissan 240SX is a balanced starter car, like the Volkswagen Golf GTI. It has pretty balanced speed, and it is the 3rd best starter car, when fully tuned. It also has superior handling. Without any upgrades the Nissan 240SX can go over 130mph.
Acquisition
The player can purchase this vehicle from the showroom. It is also one of the three starter vehicles offered to the player at the beginning of the game. When it is obtained from Booke as a starter vehicle, the hood and bumpers are matte black, as if they had just been repaired and the wheels are a model that cannot be found in the garage.
Triva
The vehicles starter wheels are unselctable in the customization menu, although it may be because they are similar to the police vehicles wheels
Gallery
Related Content
Community content is available under
CC-BY-SA
unless otherwise noted.