The Nousagi is a sports bike available in Midnight Club II.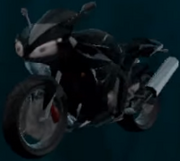 Description
Edit
The Nousagi is roughly based on the Kawasaki Ninja. It is the fastest and most responsive motorcycle in the game. In the hands of a fairly skilled biker, it can outrun a Veloci. The player does not get much of a chance to drive the bike as it is acquired very close to the end of the game.
Acquisition
Edit
This motorcyle is unlocked after beating Zen in Tokyo.
Nousagi (野ウサギ) means hare in Japanese, which hints its good top speed and acceleration.
(Coming Soon!)